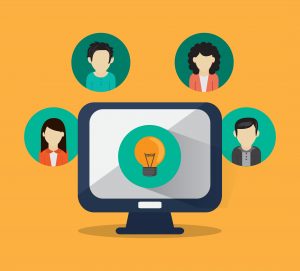 Welcome to my space for the reflections on topic 1 – Online participation and digital literacies.
Today I watched these videos and was mind blown by the approach:
David White: Visitors and residents (jiscnetskills, 2014a)
David White: Visitors and residents – Credibility (jiscnetskills, 2014b)
I was stunned, that I haven't heard about the "Visitor and Resident concept" before. I mean, eight years since it has been posted and only now, I'm aware of this. Thanks to myself, I signed up for the course. I was impressed.
You can learn to navigate the digital world. There are always new programs, apps or software update coming. The Internet is in a constant state of change. The question is, can or do you want to keep up with this constant change? Does one have the time and resources to follow this change? If so, it doesn't matter what year you were born or whether you grew up with the smartphone. David White uses the Visitor and Resident concept to challenge the "Digital Native and Immigrants" idea by Marc Prensky. (Prensky, 2001a), (Prensky, 2001b).
Again, I realized myself, I like the concept of "digital natives". This concept corresponds to my pigeonhole system in my head. Which is neither good nor bad, but simpler for me. With David White concept, I think more about how I behave on the Internet. What do I use for what purpose, personal or professional? Making my own Visitors and Residents map on Padlet(Padlet, n.d.) took some time. I am aware that if I make another map like this in six months, it will look very different.
So, what does it take to keep up with constant change on the Internet? The answer is obvious: digital literacy. Again, the ONL course gives valuable resources which I was not aware of. Firstly (Developing Digital Literacies, n.d.) and secondly (TEDx Talks, 2012).
When I think back to the two weeks with topic 1, I am glad about the many new food for thought. The exchange in my EduNauts group – formerly known as PBL 06 – is super. I find it nice to hear the different opinions from my group members and to have lively discussions. Time goes by way too fast and topic 2 is already here. Please fasten your seatbelts, it will continue immediately.
Bibliography
Developing digital literacies. (n.d.). Jisc. Retrieved 22 June 2018, from https://www.jisc.ac.uk/full-guide/developing-digital-literacies
jiscnetskills. (2014a, March 10). Visitors and Residents. https://www.youtube.com/watch?v=sPOG3iThmRI
jiscnetskills. (2014b, March 10). Visitors and Residents: Credibility. https://www.youtube.com/watch?v=kO569eknM6U
Prensky, M. (2001a). Digital Natives, Digital Immigrants Part 1. On the Horizon, 9(5), 1–6. https://doi.org/10.1108/10748120110424816
Prensky, M. (2001b). Digital Natives, Digital Immigrants Part 2: Do They Really Think Differently? On the Horizon, 9(6), 1–6. https://doi.org/10.1108/10748120110424843
TEDx Talks. (2012, March 22). The essential elements of digital literacies: Doug Belshaw at TEDxWarwick. https://www.youtube.com/watch?v=A8yQPoTcZ78