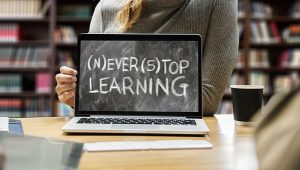 Studying in Germany and being resident in Vienna, so this is why I have experience to study online and to work in online groups. As I study e-learning development the university uses new approaches to teach. But at the same time caused by the pandemic teaching had changed anyway. Nevertheless, I was very curious to experience the concept of PBL. At the beginning I didn´t exactly know how we would work together. So we addressed the said topic in our first meetings. I think it was not that easy to find a focus as we had to discuss how we interpret the scenario which we were given. Somehow it turned out that everybody brings in his/her own perspective and sticks to it. I referred especially to the digital literacy. I mentioned that we learned at our university that the expression "digital natives" created by Marc Prensky was not scientifically proven. As well it seems to be a myth that students have imbibed digital skills with their mother's milk as mentioned in thediscussion paper by Friedrich et al. (2021).
An important aspect to overcome insecurity is therefore to understand that persons doesn´t have to be perfect using digital technologies. It is as well challenging as technology is changing quickly due to new developments. There are furthermore other aspects to consider such as data protection or as well pedagogical aspects which have to be addressed teaching online. These were introduced by a team member who wrote a block post indicating how to overcome insecurities from the perspective of a teacher. This was quite interesting for me and I learned a lot and gained valuable insight. I realized that Sigrid is a progressive teacher as she approached the topic by creating a good atmosphere in order to teach and work well together in a group and to overcome insecurity in this manner. Especially with online teaching it is important to engage students in group/ social learning otherwise there is a big risk of having a high drop-out-rate because students lose easily their motivation learning alone (Kerres,2018).
To learn together as we do is a form of active learning, a more innovative learning approach. We have to discuss, to think about, to search, to reflect for finding solutions. This differs to the very common form of teaching – the frontal instruction. The use of digital possibilities offers as well other teaching opportunities but requires sometimes another approach to teaching for example with active learning the role of the teacher is more one of a facilitator that helps to overcome difficulties when necessary. Another point are cultural differences that have to be taken into consideration as e. g. the hardware is not available everywhere etc. In general, it is important to get started, to gain experience and to go on even if you find it sometimes
challenging using digital devices. At the end you will succeed.
References:
Friedrich, J. D., Neubert, P., & Sames, J. (2021). 9 Mythen des digitalen Wandels in der Hochschulbildung. Edition Stifterverband.
Kerres, M. (2018). Mediendidaktik: Konzeption und Entwicklung digitaler Lernangebote (5. Aufl.). Berlin/Boston: Walter de Gruyter