Source of illustration: "Literacy Rainbow (6/6)" flickr photo by justgrimes https://flickr.com/photos/notbrucelee/7159036564 shared under a Creative Commons (BY-SA) license.
Digital literacies are those capabilities which fit an individual for living, learning and working in a digital society.
Me in the digital age
I feel the same way too, as described in the scenario of this week. I'm not yet 30 years old and can work with computers and applications quite well (kind of a computer native). But the thing with social media and with blended, online learning is something completely new for me too. I have a bit of trouble and, above all, inhibitions about sharing my ideas and opinions so publicly with people I don't know yet.
But it's great how we openly communicate with each other here in PBL group 7. That creates trust and I look forward to our exchange.
My own digital literacy and identities
I am also very interested in learning more about social media and how it should be used for professional reasons. For example, I don't even know exactly how it works with hashtags. But I already advertise our research area on Facebook and LinkedIn and just try it out on my own… But a crash course on how to behave in the social media in a professional way and how computers work in the background with the generated data would be great.
In order to encourage staff development the Association for Learning Technology (ALT) provide CPD courses for staff such as ocTEL (Open Course in Technology Enhanced Learning) (Jisc infoNet, 2014).
Sometimes I wonder why is it important to learn so many IT tools and platforms? But I think that's because each person prefers certain tools. And these preferences have a lot to do with one's environment, which tools are widespread where. Already at the beginning of OLN222 I noticed that some of the other course participants prefer completely different digital tools than I do. For example, I didn't even know Panopto (video platform), and also Discord (chat) is completely new to me.
Lately I work the most with Sharepoint, MS Teams, Padlet, Kaltura, and Telegram for my professional life and Google Drive and WhatsApp for personal life. Facebook, Google search and LinkedIn I use for both life.
The Visitors and Residents approach provides a model for engaging users and evaluating digital services to users through an exploration of individual behaviours and preferences (Jisc, 2014). When I drew the diagram of my use of digital tools, I noticed that these tools are spread all over the diagram. Therefore, I realised that I have a good work-life balance in the context of use of digital tools.
The task of sharing the results from the PBL group with the whole community in a multifaceted way is also an approach that encompasses JISC infoNet's vision: Promoting a culture of innovation and change where staff and students at all levels are involved in strategic conversations around digital literacies and a range of engagement models are supported (Jisc infoNet, 2014).
ONL will help my development in digital literacy and identities
I am sure that OLN222 will make a big contribution to me being more familiar with online participation by having less inhibitions about using my knowledge. It will also strengthen my digital literacies. The different learning pathways by forum contribution (individual reflection space), group work, collaborative digital projects (PBL), webinars, readings, tweet chats on different online tools include the required activities of the ASTI model, in order to support services and development (Jisc infoNet, 2014).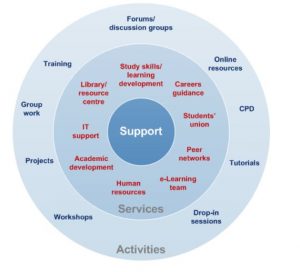 Joining up activities through a 'hub and spoke' model where a central team coordinates and oversees these, such as the ASTI model at Plymouth University, is a good approach (Jisc infoNet, 2014).
My experiences from ONL so far
Even at the beginning, I had a little trouble finding my way around the learning platform. But with a few explanations from the facilitators and the other course participants, I quickly found my way around. This support is also entirely in line with strategic perspectives on digital literacies. Providing support services and opportunities which enable students and staff to develop their digital capabilities is very important (Jisc infoNet, 2014). Also enabling a supportive IT infrastructure which supports diverse digital practices and flexibility helps in the learning process (Jisc infoNet, 2014).
Further thoughts
The videos and reading provided in this topic made me realise how difficult digital literacies must be especially for older people. Slowly but surely, I understand why I always have to explain everything in the digital world to my parents and acquaintances very detailed and several time. On Jisc infoNet you will find a collection of top tips for people of different target audiences. Some of our suggestions may seem to state the obvious but they reflect outcomes from the Jisc programme and are a useful reminder for when you are developing digital literacies in your institution. I have taken a close look at these tips for students and course teams. These are very helpful and show that you don't have to know everything yourself. It is much more important to know that you can also ask for help sometimes or that you can learn from others.
Online participation and digital literacies
In our PBL group we investigated, what best practices for online courses exist for online course and social media.
Explore our findings: #ONL222 PBL 7 group space Topic 1
Literature
Jisc. (2014). Visitors and residents. https://www.jisc.ac.uk/guides/evaluating-digital-services/visitors-and-residents
Jisc infoNet. (2014). Developing digital literacies. http://web.archive.org/web/20141010132612/http://www.jiscinfonet.ac.uk/infokits/digital-literacies/