As we are in the final days of the Open Networked Learning course, I am persuaded to continue my journey with problem-based learning. As a learning designer, I plan to utilise the experience I was afforded through the learning opportunity to incorporate the design in up and coming projects for post-graduate programmes.
Cooperative learning is the foundation of Problem-based learning (PBL). It prepares students for multidisciplinary teamwork in their careers, which is a requirement for any group problem-solving tutorials, feedback and inquiry seminars, fieldwork and skills laboratories used in place of formal didactic lectures.
ONL was a unique experience as I have never been part of a problem-based learning course and have gained tremendous experience with my PBL group.
Under the guidance of a facilitator and co-facilitator, students actively direct the setting of their learning objectives and find solutions within a framework of prescribed course objectives. Multiple resources, including reference materials and subject experts through webinars, are available to help students achieve this.
Problem scenarios are carefully constructed based on real-life situations. Finally, they are graded to allow the students to develop the knowledge and skills necessary for competence. I am persuaded to use the learning pedagogy in my design for online programmes and to look at forming communities of practice within the online learning environment I am involved in.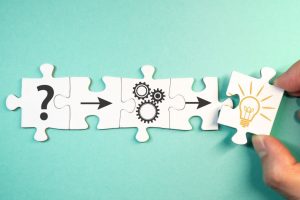 The PBL process hinges on the student's ability to research a problem and come up with solutions, with the facilitator guiding and facilitating the process, but not teaching. Problem-based learning is dependent on the student getting involved and directing their learning. The facilitator of the PBL group is not there to give answers but rather to ask pointed questions, stimulate thinking, draw on knowledge, and guide to appropriate resources.
When using technology in online learning, the "user" of the technology should be very comfortable with the tools used and, if not experiment and test the tools to become proficient and competent.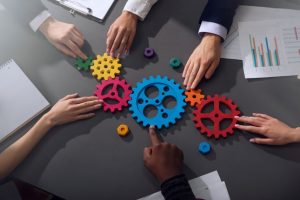 In my intentions to incorporate PBL design into my existing design work for online programmes, I am looking forward to the following design process based on the outline of the problem-based learning framework:
First, articulate the learning outcomes of the project.
Create the problem. Ideally, this will be a real-world situation that resembles something students may encounter in their future careers or lives.
Establish ground rules at the beginning to prepare students to work effectively in groups.
Introduce students to group processes and do some warm-up exercises to allow them to practice assessing both their work and that of their peers.
Consider having students take on different roles or divide the work amongst themselves.
Establish how evaluation and assessments will take place.
Consider making the self and peer assessments a part of the assignment grade.
As we are moving toward newer learning theories and pedagogies, there are new technologies that can be incorporated and will be interesting to follow;
Using augmented and virtual realities in learning design
Artificial Intelligence in learning
Chatbots in learning
Telecollaboration in language learning
These are only a few mentioned in the Innovating Pedagogy report from the Open University. In my intentions to stay connected, I am hopeful to keep the connections I have made during this learning opportunity and to share, learn and grow some more.
References:
Nilson, L. B. (2010). Teaching at its best: A research-based resource for college instructors (2nd ed.).  San Francisco, CA: Jossey-Bass.
Open Universities report Innovating pedagogy 2021 available here
NMC Horizon Report teaching and learning edition 2021 available here
Looking back at the ONL221 Journey